Recent votes, decisions, updates & changes
BIG WIN – Quarry Park will be the first SMC Park to legally allow dogs off-leash! 
April 5, 2022: With a 4-1 vote, the Board of Supervisors gave the green light for the off-leash dog pilot program at Quarry Park! We are so excited to share the news with you, our amazing supporters, and want to THANK YOU again for all your help throughout this process. It's been a long and windy road, but common sense, public support and a fact-based approach prevailed. 

Under the new pilot program, dogs will be allowed off-leash on most trails at Quarry Park. After a 12-month period, data collected during the program will be presented to the Planning Commission and Board to determine whether off-leash dogs can safely become a more permanent fixture in the park. 

Once an official start date for the pilot is set, we'll post it here. For now, please follow the current rules at Quarry Park, keep your dog leashed and clean up after your furry friend. Let's show the general public that our community of dog owners is responsible and considerate of others and the environment. 

This is only the beginning, and with your support we'll continue to advocate for more off-leash access in SMC because … Tails Belong on Trails!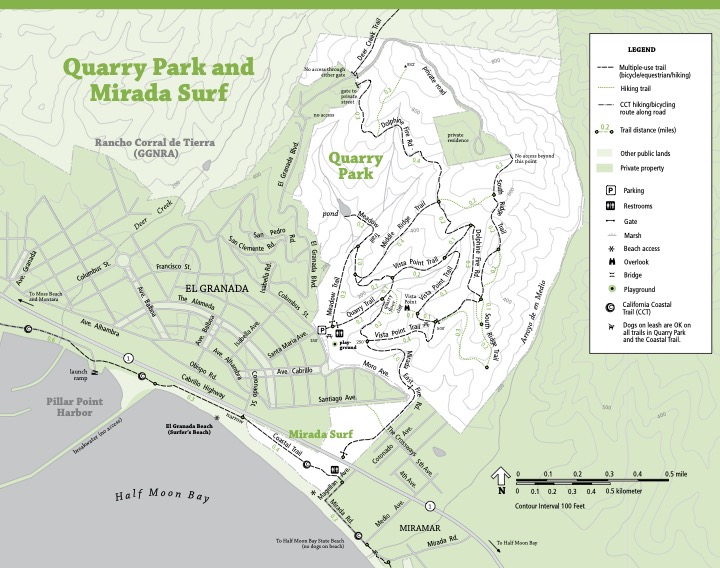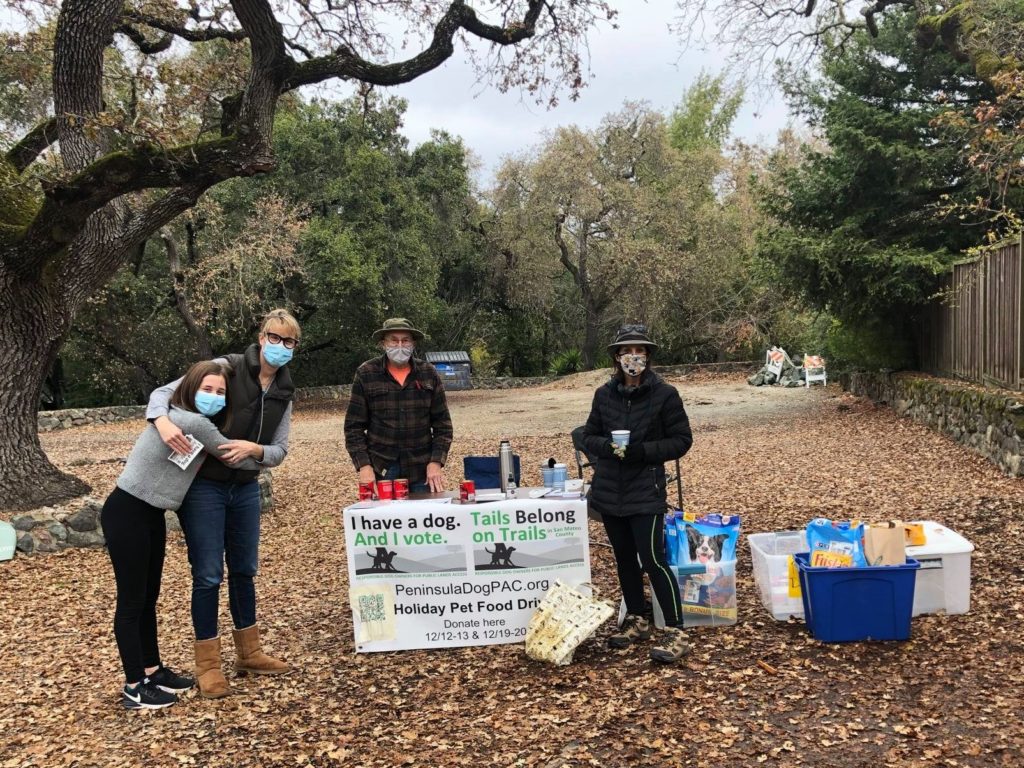 VICTORY.  San Mateo County supervisors voted in favor of the first ever county off-leash dog trails
November 9, 2021:  The San Mateo County Board of Supervisors voted 4 to 1 in favor of off-leash pilot programs at Quarry Park and Pillar Point Bluff (pending a Coastal Development Permit). THANK YOU to everyone who sent emails and attended yesterday's meeting! The 103 emails sent supporting the pilot program and the 22 public comments made a HUGE DIFFERENCE. The "YES" votes came from Supervisors Don Horsley, David Canepa, Warren Slocum, and Dave Pine. The "No" vote came from Carole Groom.  We will keep you posted on the Coastal Development Permit.
The Peninsula DOG and Coastside DOG sponsored and organized a meet and greet with San Mateo County Park & Recreation Director Nicholas Calderon at Pillar Point Bluff in Half Moon Bay/Moss Beach.
October 3, 2021: We had a great turnout of both dog owners and dogs.  We got a chance to hang out, talk and walk with Director Calderon, San Mateo County Park & Recreation Commissioner Neil Merrilees, and a couple of park rangers as we picked up whatever other dogs' poops we found along the way.  Peninsula DOG and Coastside DOG members showed the Park & Recreation leaders that we will keep clean our off-leash dog trails and have well-trained dogs.  We plan to work with the Director and rangers to make the off-leash trail pilot program a success that leads to more off-leash trails, and that will include occasional fun walk and clean-up events at Quarry Park and Pillar Point Bluff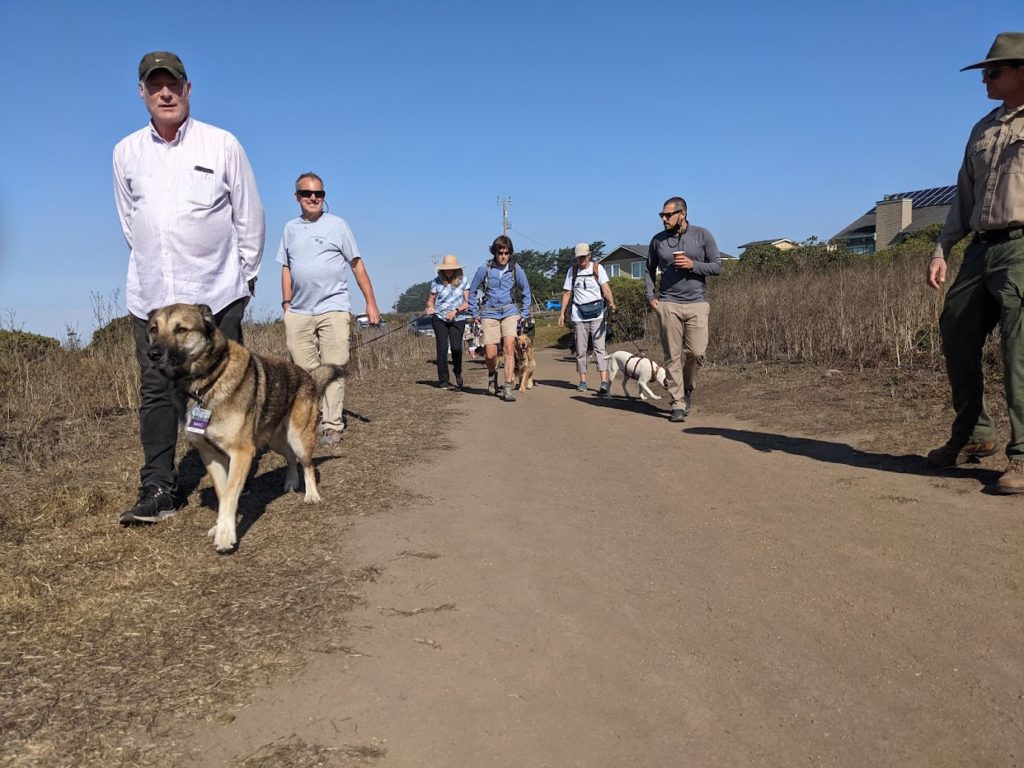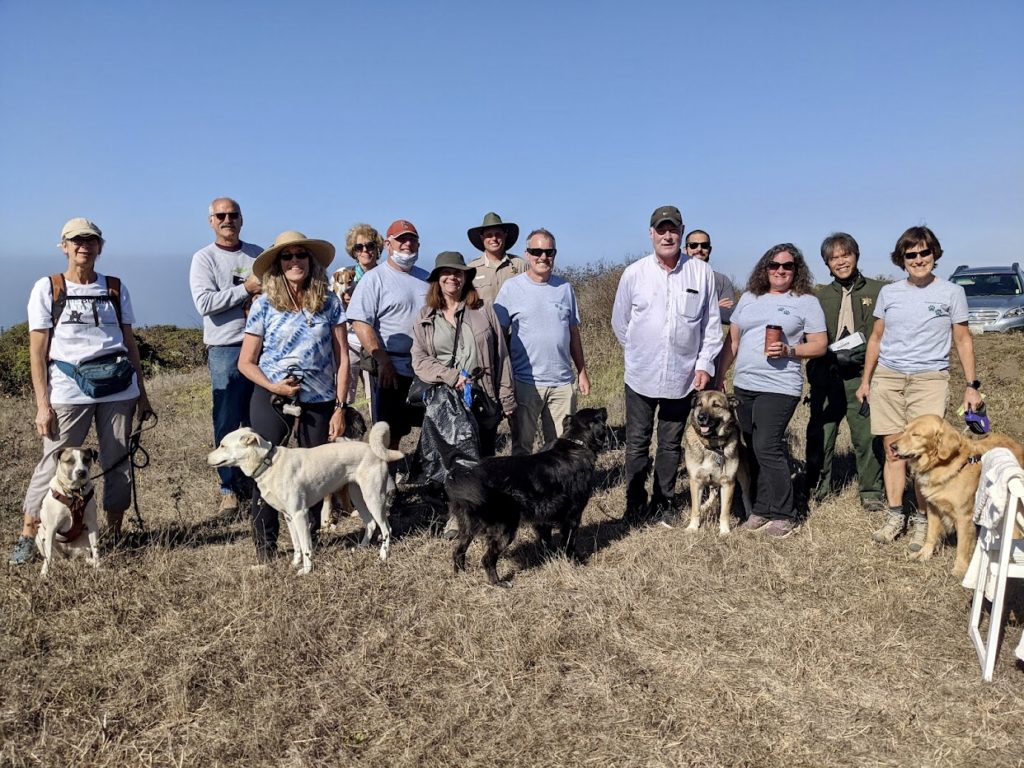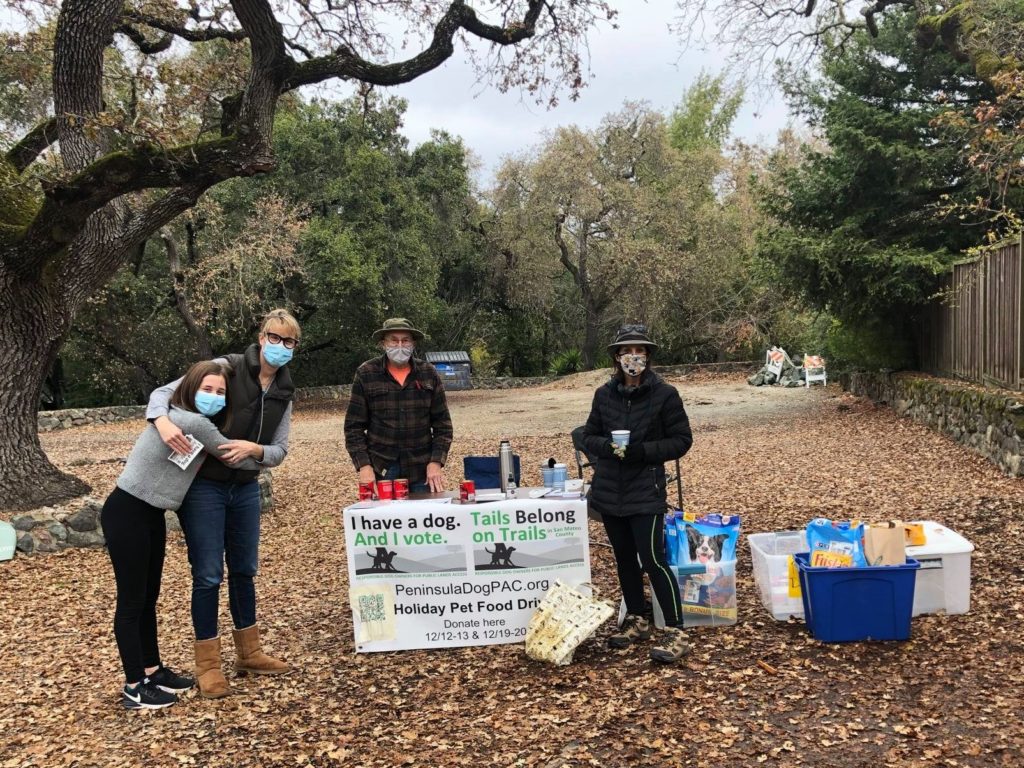 San Mateo County Parks and Recreation Commission Meeting: Proposals for a 12 month pilot for legal off-leash trail access in Pillar Point Bluffs and Quarry Point county parks moved a step in the direction toward implementation.
August 5, 2021: Commissioners voted to move two proposals for pilot off-leash access in Pillar Point Bluffs and Quarry County parks to a vote at the next San Mateo County (SMC) Board of Supervisors meeting in the fall of 2021. Peninsula DOG was instrumental in rallying support for the off-leash proposals at this meeting. Next steps are as follows:

After eight more days for public comment following the August 5th meeting, the SMC Parks and Recreation Commission will forward two proposals that would enable a 12 month pilot program for off-leash dog access in Pillar Point Bluffs and Quarry Point Park County parks to the SMC Board of Supervisors for approval at their September/October meeting.
If approved (we need a good presence at this meeting!), then the County will apply for a coastal use permit later this fall. 
If the coastal use permit is approved, then the County will set up the trails for off-leash access (signage etc.).
It is our expectation/hope that the off-leash dog trail pilot program would start in December 2021 or January 2022.
  The Peninsula DOG and Stulsaft Park friends and neighbors helped families feed their pets during the coronavirus crisis.
December 2020: Many of our Redwood City and

Peninsula neighbors are experiencing job and income reduction due to the coronavirus pandemic. During these uncertain times, we believe it's important to do everything we can to keep pets with their families who may need a hand. So, the Peninsula DOG and friends of Stulsaft Park launched a pet food drive this holiday season — dog and cat food for anyone who needs it — partnering with local food banks and pet rescue organizations located nearby.  We received three big carloads of donated dog and cat food, enough to give sizable donations to Pets In Need, 9 Lives, Redwood City's Safe Parking Lot (for families living in RVs) and to Life Moves helping the homeless of the Peninsula.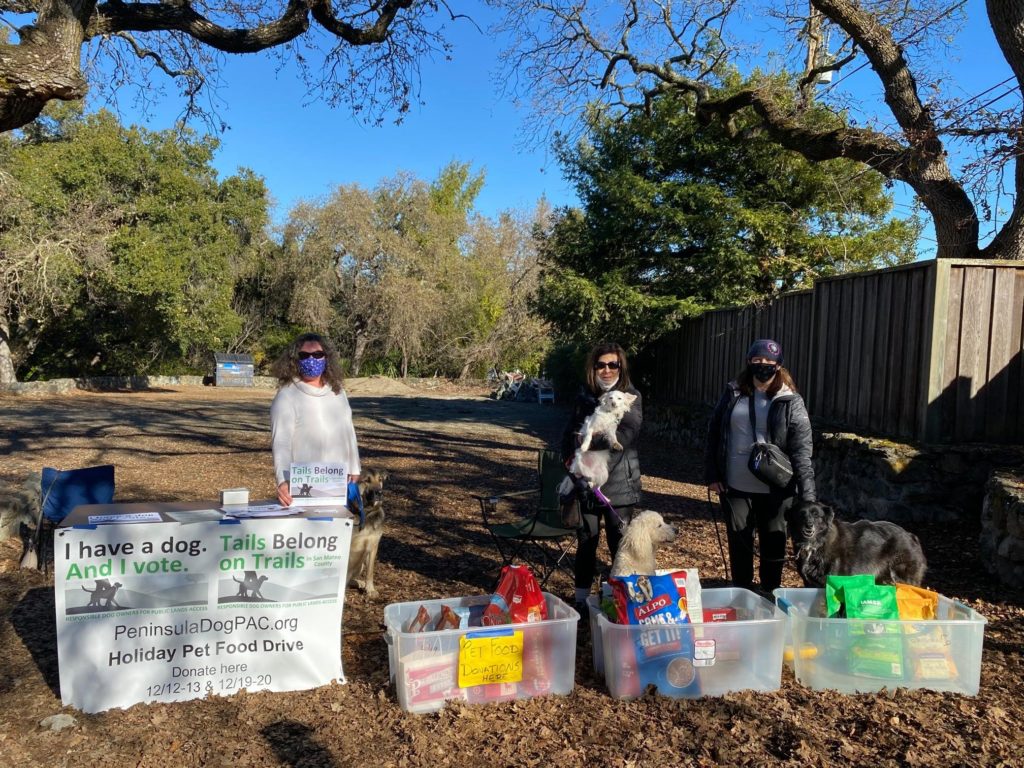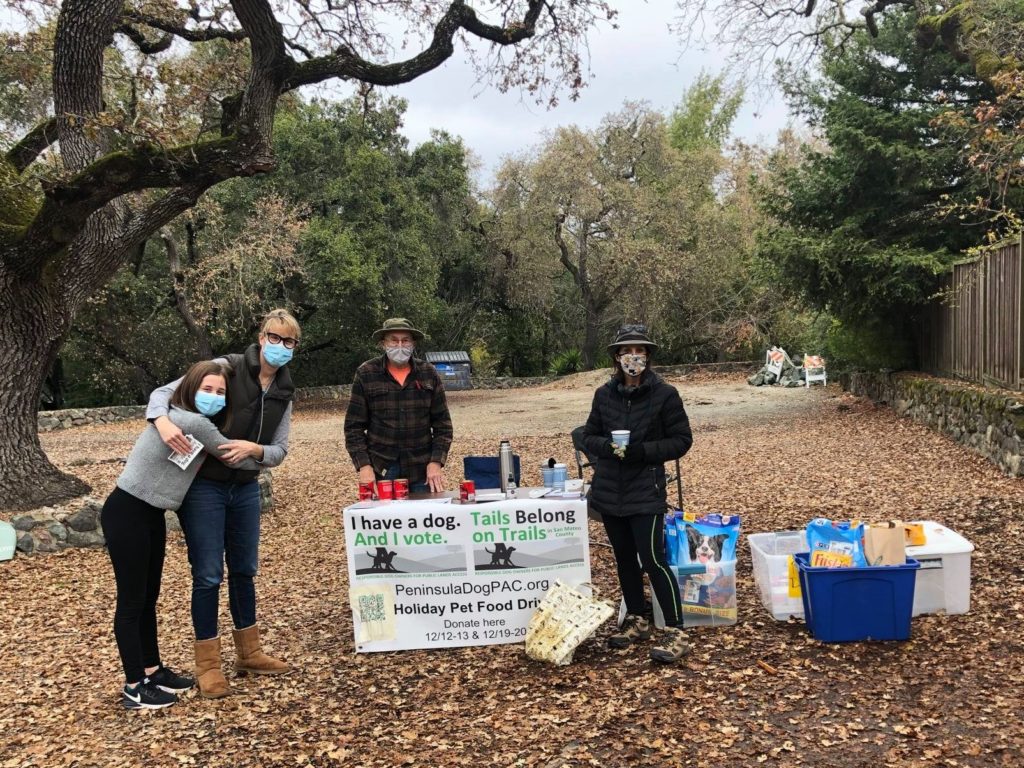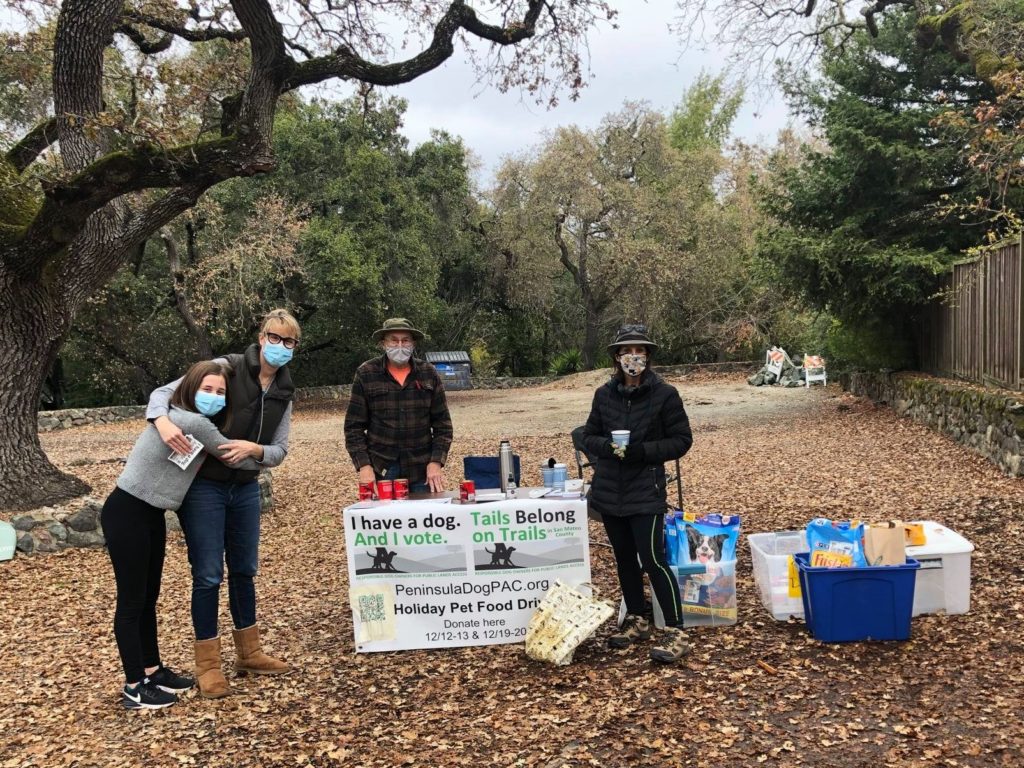 We helped inform the public during the last local elections…
November 3, 2020: The fall 2020 elections resulted in Peninsula DOG's first successful outreach to local politicians. We sent out over 60 questionnaires to candidates running for local elections to learn about their positions on providing additional trail access for dogs on the Peninsula. As described on our 2020 Elections webpage, we received 50% of responses back from candidates. We then placed a signature print next to candidates that were favorable to dog access based on the surveys they completed. The information we provided local voters well ahead of the November election helped voters become more informed about the candidates.
  Two new on leash parks have been approved for a pilot program!
Fall 2020: San Mateo County (SMC) now will allow dogs on leash on some trails at Coyote Park and Junipero Serra Park. Thank you to the San Mateo County Dog Work Group, Christine Corwin of Coastside Dogs, and all of you who attended SMC Dog Work Group meetings and/or sent emails for making this happen.
Like what we're doing or want to get involved? Please feel free to send us an email with any questions or comments to this address: info@peninsuladog.org. Learn more about volunteering with Peninsula DOG here or click the Volunteer option to sign up now to help out on this page: https://peninsuladog.org/signup/.
If you haven't already done so, please sign up for our mailing list to stay informed and be counted in our total numbers of supporter so that we can have a greater impact reaching elected officials. Please sign up for our mailing list here: https://peninsuladog.org/signup/!!!